Skip to Content
Reduce the Risk of Serious Injury With Mouthguards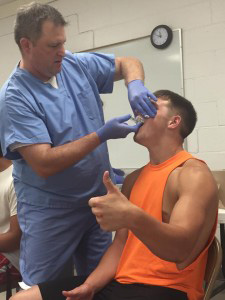 Your child's pearly whites didn't just come overnight. From the time they were born, you waited for their first tooth to come in. You celebrated with your child when they lost their first tooth. And your eyes sparkled as their adult teeth came in. Together you've inspected and cleaned and cared for those teeth. You love their white smile.
But you should also love their orange, green, blue or purple smile because mouthguards are what will protect those pearly whites from harm as your child plays their favorite sport. Don't think they need a mouthguard? Well, in a split second, your child could become one of 5 million teeth lost in unfortunate athletic collisions each year if they are not wearing one.
In 1999, Dr. Cynthia R. LaBella, a sports fellow at the University of North Carolina found that only 13% of men's basketball players from 50 Division I programs wore mouthguards. After reviewing data of dental injuries and concussions throughout the season, researchers found that without a mouthguard, players were six times more likely to incur significant injuries.
(*Basketball has the highest incidence of oral facial injury of any sport.)
Because the National Youth Sports Foundation for the Prevention of Athletic Injuries reports that dental and orofacial injuries are the most common type athletes incur while playing sports, Dr Kassem suggests that all athletes wear a protective mouthguard while practicing or playing in games.
Today there are several types of mouthguards athletes can wear, but parents should keep in mind that not all mouthguards have the same effectiveness.
Stock mouthguards, which are the least expensive and can be found at sporting good stores, are the least preferred type of mouthguard because the piece will not fit the shape of the teeth correctly and can often become dislodged when your athlete is hit.
Boil and bite mouthguards are the most commonly used type because of their availability and cost. After the mouthguard is placed in boiling water to bring the plastic to the point of elasticity, they are placed in the athlete's mouth to form a mold around his/her teeth and gums. But, like the stock mouthguards, boil and fit mouthguards do not provide the required thickness, mold or protection to the posterior teeth needed to label it effective.
Dr. Kassem recommends a custom-made mouthguard because it will give your athlete the protection he/she needs on the field. When a qualified dentist makes a mouthguard for an athlete, they are able to produce a guard that is adequate for the sport being played, to take into account the dental history of the athlete and if the athlete has had a concussion.
While there has not been conclusive evidence to whether or not custom-made mouthguards reduce the chance of a concussion, a 2014 issue of General Dentistry sites a study which concluded "high school football players wearing store-bought mouthguards were more than twice as likely to suffer mild traumatic brain injuries than those wearing properly fitted, custom mouthguards."
Dr. Kassem and the team at Mahomet Family Dentistry can fit your athlete with a custom mouthguard in under a week's time. It even can be made with your child's favorite color.